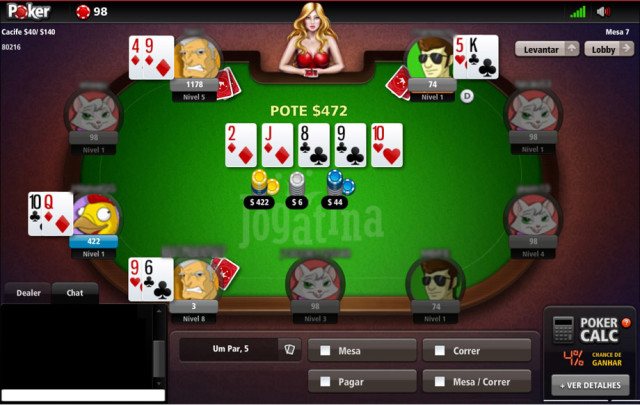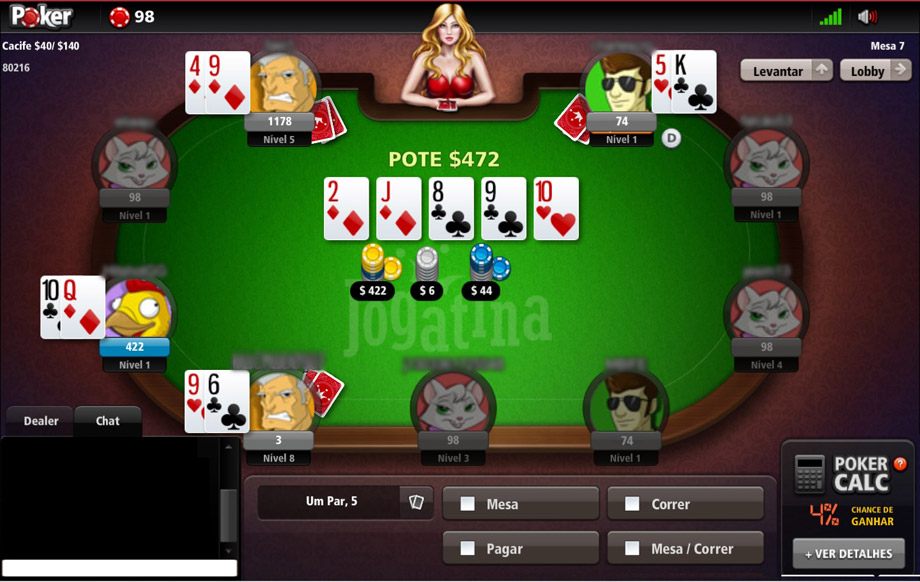 ¿Por qué jugar Póker online gratis?
Para descubrir el mundo de los torneos
A pesar de que el póker con dinero en efectivo (mesas de cash) ha adquirido gran fuerza últimamente, nadie puede negar que jugar torneos de póker online gratis son la forma más conocida de jugar al póker y el tipo de juego en el que más puede influir la experiencia pero, ¿por qué recomendamos jugar torneos freeroll?
Cada día son decenas de miles los jugadores que participan en los torneos de póker online gratis, siendo estos probablemente la fórmula de mayor éxito ya que permite a los usuarios luchar contra otros jugadores en un intento por convertirse en el mejor dentro de un gran grupo de participantes, con el reconocimiento personal (y, por qué no decirlo económico) que conlleva.
Pero, ¿cuál es la mejor forma de aprender a jugar torneos de póker? La respuesta es clara, practicando. La única forma que existe para convertirse en un ganador de torneos de póker es jugando torneos de forma gratuita.
Parece una obviedad, pero en muchas ocasiones se nos olvida ya que podemos leer muchos artículos de estrategias, conocer todos los trucos que existen para ganar o saber perfectamente la teoría necesaria para ganar, pero si no practicamos todo lo aprendido, nunca lo podremos dominar y, por tanto, nunca podremos sacar un beneficio de ello.
Jugar en los torneos freeroll permite a cada jugador entrar en acción real y sin necesidad de invertir parte del presupuesto, siendo estos el recurso más eficaz para familiarizarse con los aspectos del juego aprendidos y adquirir experiencia para saber cómo actuar en cada una de las situaciones que se presentan en los torneos.
A pesar de que el póker no es un juego complicado de entender y de que no es complicado jugar, en los torneos de póker hay muchas situaciones en las que la teoría no es suficiente. Se pueden haber leído infinidad de artículos sobre cómo gestionar las fichas en las diferentes fases de un torneo, sobre cómo jugar a lo largo de este y conocer multitud de consejos y recomendaciones para los torneos, pero para comprender qué se debe hacer en cada situación es necesario vivirlas en persona y para ello lo mejor son los torneos freeroll.
Para entrenar nuevas estrategias y estilos de juego

Al contrario de lo que mucha gente asegura, el mundo de los freeroll y torneos gratuitos de póker online no está pensado solo para los jugadores principiantes, sino que son muchos los jugadores expertos que se aprovechan de la posibilidad de poder poner en práctica los últimos conocimientos adquiridos y dominarlos sin tener que invertir su dinero.
El póker es un juego en el que la disciplina y la formación desempeñan un papel muy importante, por lo que los jugadores de nivel medio-alto necesitan estar en constante aprendizaje, tratando de conocer diferentes variantes en su estrategia para saber cómo actuar ante las diferentes situaciones que se van encontrando, sabiendo la mayoría que no es bueno experimentar con dinero real.
Haciendo una comparación, jugar al póker se puede comparar con luchar en una guerra (con la diferencia que en el primero solo se pone en juego una cantidad de dinero). Seguro que a nadie se le ocurre ir a la guerra sin haber disparado un arma en su vida por mucho que haya leído libros sobre cómo disparar. Los ejércitos realizan multitud de pruebas con armas y simulaciones de lucha sin fuego real para que los soldados estén alerta y sepan cómo actuar en caso de que sea necesario luchar en una guerra. En el póker es exactamente igual, los jugadores tienen todos los conocimientos, pero es necesario practicar con "fuego ficticio" antes de invertir el dinero.
Un ejemplo concreto de puesta en práctica
Imagina que acabas de descubrir un interesante artículo sobre la forma de actuar en el juego pre-flop durante el desarrollo de un torneo y quieres poner en práctica lo aprendido, teniendo en cuenta que hay algunas novedades que difieren en cómo actuabas anteriormente, ¿qué es lo más aconsejable?
a) Participar en un torneo con dinero en efectivo invirtiendo tu dinero y confiando en que hayas entendido los consejos o incluso teniendo la esperanza de que lo aprendido sea bueno de verdad.
b) Jugar un (o varios) torneo freeroll para poner en práctica lo aprendido, analizar los pros y contras, observar su efectividad y, solo entonces, decidir si sumar este nuevo aprendizaje a tu juego.
¿Qué dices? Parece ser que visto de esta forma es aconsejable practicar lo aprendido en torneos freeroll, ¿no es así?
¿Cómo jugar un torneo freeroll online?
Los torneos freeroll suelen encontrarse en el lobby principal de las salas de póker online de la misma forma que lo hacen los torneos de póker con dinero real, con la única diferencia en el buy-in ya que no tendrías que invertir tu dinero para participar en ellos.
Existen dos tipos de torneos freeroll, aquellos que tienen inscripción abierta y por tanto permiten participar a todos los jugadores que lo deseen simplemente registrándose en él y los que tienen inscripción cerrada o que exigen algún requisito. Este último tipo suele ser utilizado para torneos especiales destinados solo a jugadores VIP, a torneos satélites específicos para lectores de alguna página en especial o para torneos organizados por alguna asociación o web para sus usuarios.
Al hacer clic en cualquier torneo freeroll podrás conocer si está abierto a todo el mundo o tiene alguna restricción.
Diferencias de jugar al póker con dinero ficticio y jugar gratis
Dificultad y nivel de juego
En muchas ocasiones se cree que las partidas con dinero ficticio y jugar al póker online gratis o freerolls son los mismo, pero hay varios aspectos que los diferencian a pesar de que en ambos el jugador participante no tiene que invertir su propio dinero.
A pesar de que en ambos torneos pueden participar tanto jugadores principiantes como jugadores expertos, en el caso de las partidas y torneos con dinero ficticio el nivel de juego suele ser más bajo ya que es mayor (y casi exclusiva) la afluencia de jugadores que están allí para entender las reglas del juego, probar el software de la sala y comenzar su andadura en el mundo del póker.
Los torneos freeroll, al contrario que estos, son mucho más competitivos y suelen ser utilizados por jugadores habituales de póker con dinero real para poner en práctica nuevas estrategias, probar un nuevo estilo de juego o simplemente para disfrutar del póker (e incluso ganar premios) sin invertir su dinero tal y como vemos a continuación.

Premios en juego
Esta es la principal diferencia entre las mesas de póker con dinero ficticio y los torneos freeroll, que este segundo tipo suele ofrecer a los ganadores y jugadores mejor clasificados algún premio. Mientras que en los torneos y mesas con dinero ficticio solo se pueden ganar fichas virtuales y, por tanto, esto no influye en tu economía, los torneos freeroll suelen ofrecer ganancias reales, ya sean pequeños premios económicos o entradas a torneos con dinero real.
Cada sala tiene su propio calendario de eventos freeroll donde ofrecen a sus jugadores de forma totalmente gratuita la posibilidad de conseguir premios reales. En la actualidad son muchos los torneos freeroll que existen y que ofrecen el pago del buy-in para participar en un torneo satélite donde se puede conseguir una entrada (o un paquete completo) para participar en los eventos en vivo más prestigiosos como las WSOP, el EPT o la Battle of Malta.
Aplicaciones y juegos en flash de póker gratuitos
Además de las mesas y torneos con dinero ficticio que ofrecen las diferentes salas de póker, existen también otros métodos para jugar al póker online de forma gratuita. A pesar de que estas opciones no permiten la posibilidad de jugar con dinero real ni de ganar diferentes premios como sí ofrecen los freeroll, estas aplicaciones y juegos en flash pueden ser una buena opción de entretenimiento.
Juegos individuales
Uno de los grandes éxitos de jugar póker online gratis es que puedes jugar contra otros usuarios, por lo que este tipo de juegos árcade relacionados con el póker donde el usuario debe ir eliminando a contrincantes para avanzar pantallas o en el que se pueden jugar torneos contra jugadores virtuales no han llegado a convencer a los jugadores de póker. En muchas ocasiones los juegos en flash o las aplicaciones de póker creadas para ordenadores y dispositivos móviles, al contrario que ocurre con las salas de póker, no permiten jugar contra otros jugadores, por lo que no se pueden aplicar los conocimientos adquiridos de la misma forma que se haría al jugar contra humanos.
El título más conocido de este tipo es el Governor of Póker, un juego que a pesar de las limitaciones comentadas y de que el usuario solo se enfrenta a la máquina, ha conseguido atraer las simpatías de muchos usuarios gracias al entretenimiento que ofrece.
Las principales ventajas de este tipo de aplicaciones y juegos en flash es que no es necesaria la conexión a internet para poder disfrutar del póker gratis, además de que se puede jugar en pequeños periodos de tiempo, como por ejemplo cuando se está esperando a un amigo o en la consulta del médico y no tienen ningún inconveniente a la hora de finalizar la partida en el momento en que termine la espera.
Juegos multiusuario
Este tipo de juegos se podrían situar en el mismo nivel que las partidas de dinero ficticio que ofrecen las salas de póker, aunque no se puede comparar debido a varias diferencias. En el caso de este tipo de juegos la gran mayoría de los usuarios no dominan las reglas, por lo que su forma de actuar no se asemeja, ni tan siquiera se parece, al juego que se usa en las mesas de póker con dinero real. En esta sección debemos incluir todos los juegos en flash para ordenador y aplicaciones para teléfonos (Android, iOS…) en las que se puede jugar al póker contra otros usuarios pero que no permiten la opción de jugar con dinero real al no ser salas de póker comunes. En este grupo también se encuentran los juegos de póker que se pueden encontrar en las redes sociales como facebook.
De esta forma, no se puede poner en práctica ningún tipo de estrategia en estos juegos ya que por norma general, debido al bajo nivel de juego o al tipo de juego sin control de muchos usuarios, las partidas en las mesas de estas aplicaciones no se corresponden a las actuaciones que tendrían los usuarios con dinero real.
En las mesas de dinero ficticio de las diferentes salas de póker los usuarios a los que te enfrentas son jugadores que participarán en partidas por dinero real, pero que en este momento (ya sea porque todavía están comenzando su aprendizaje o porque están poniendo en práctica la última estrategia aprendida para saber su funcionamiento) prefieren jugar sin poner en juego su presupuesto, mientras que la gran mayoría de usuarios de este tipo de juegos en flash y aplicaciones probablemente no jugarán nunca con dinero real y si lo hacen variarán completamente su estilo de juego al hacerlo.