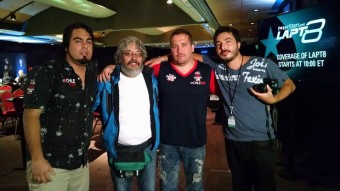 Sin duda alguna este ha sido un excelente año para varios chilenos que compiten en el circuito LAPT8 consiguiendo dos títulos de Main Event y con representantes nacionales en todas las mesas finales a excepción de la primera fecha jugada durante el PCA 2015.
Es por eso que no es de extrañar que el ranking Player of the Year 2015 (PoY) esté liderado por Oscar Alache, ganador del Main Event del LAPT8 Viña del Mar y que entre el Top10 encontremos a Patricio Rojas, Amos Ben, Rodrigo Quezada y Justo Esquivel a falta de una fecha por jugar.
Recordemos que el ganador de este premio se llevará la entrada a todas las paradas del LAPT 9na Temporada, además del reconocimiento público de todos los jugadores que participan en este circuito.
Dentro de los 10 mejores del ranking encontramos varias historias entretenidas como por ejemplo, Oscar Alache debería luchar el primer lugar con Renata Texeira repitiendo el heads-up que vivimos en marzo pasado.
Otro que podría llevarse este título es Patricio Rojas quien ha conseguido una 10ma posición y un 6° lugar en las últimas dos paradas del circuito 2015 con un rendimiento que viene en alza y con ganas de conseguir un cobro importante.
También está en la pelea por el PoY 2015, Amos Ben quién ya obtuvo este título el año 2013 y pretende repetir este honor para demostrar que es uno de los mejores jugadores de Latinoamérica.
Por último, unos que se encuentran más atrás, pero no pierden las esperanzas son Justo Esquivel y Rodrigo Quezada quienes además de ser amigos, son sponsor y patrocinado, por lo que a pesar de competir por el podio, el triunfo de alguno de los dos sería perfecto para ambos.
A continuación te dejamos con el Top10 del Ranking PoY 2015.