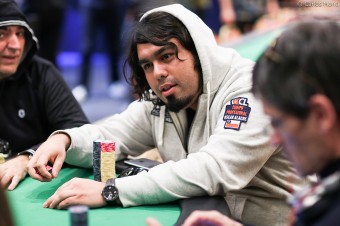 Finalizó una nueva parada del LAPT8 y los chilenos sacan cuentas positivas. Varios compatriotas lograron pasar por caja en el Evento Principal siendo Patricio Rojas quien más logró avanzar, ocupando un sexto lugar que le retribuyó un premio de $36.280 y valiosos puntos que lo harán subir en el ranking PoY 2015.
Pero uno que no podía faltar en este recuento es el Team Chile Poker Live Red Aconcagua, Oscar Alache que si bien estuvo a punto de cobrar en el Main Event, obtuvo una 13° posición en el Evento Second Chance donde obtuvo $2.320 que se sumarón a los $28.720 por su 3° lugar en el Evento High Roller $5K.
El High Roller contó con la participación de 42 jugadores que reunieron un pozo a repartir de $191.478 entre las primeras 6 posiciones.
El primero en cobrar fue el reciente ganador del WCOOP Sunday Million y campeón LAPT Uruguay 2012, Alex Komaromi. Luego cayó el canadiense Sam Chartier y el charrúa Fancisco Paulwiter, incrementando las posibilidades del chileno que buscaba sumar un nuevo trofeo a su abultado repertorio.
Lamentablemente esto no fue posible, ya que Oscar fue el siguiente en ver la eliminación, pero quedó bastante tranquilo, ya que sumó importantes puntos para el ranking Player of the Year 2015 que lo dejan como líder indiscutido a falta de una fecha para terminar el circuito.
"Vamos bien encaminado en la carrera por el PoY 2015. Partí primero, estuve cerca de cobrar en el Main Event y salí 13° en el Second Chance. Quedaba la última chance en el High Roller que es muy dificil. Todos los jugadores son regulares, pero gracias a dios llegue a mesa final" comentó Alache tras su participación.
"La mesa final estaba llena de jugadores buenos. Estaba Matias Ruzzi, Paulwitter, Komarola22 que esta pasando un muy buen momento, Patrick Mahoney que fue el ganador, un canadiense muy bueno y un checo. Estuvo durísimo" agregó.
"De igual manera batallamos, quería el título, pero no se pudo esta vez. Quedé muy bien parado para la última fecha así que vamos a ver que pasa. Estoy muy contento porque vengo cobrando en todos los LAPT`s" finalizó.