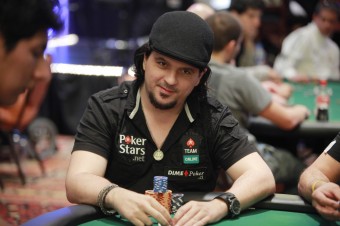 La gran final en vivo de la tercera edición de la America´s Cup of Poker se realizará el lunes 8 y martes 9 de agosto en el Mantra Resort, Spa & Casino de Punta del Este, después de que se juegue el Latin American Poker Tour.
Luego de cuatro semanas de una competitiva etapa clasificatoria en PokerStars.net, siete países clasificaron para la gran final en vivo. Cada equipo está conformado por los cuatro jugadores que ganaron más puntos durante la clasificación, más un miembro del Team PokerStars Pro que será el capitán. Juntos representarán a su país para competir por el título de "Campeón de América" y ganar una parte del premio acumulado de USD$ 100.000.
El año pasado luego de una dura final contra EE.UU, Canadá se coronó campeón de la segunda edición de la America´s Cup of Poker que se realizó en Lima, Perú.
El capitán canadiense y Team PokerStars Pro, Greg DeBora, de 27 años, asiduo jugador de high stakes en la mesas de juego abierto en línea y en vivo, fue un excelente capitán. Se le pudo ver pendiente de sus jugadores en todo momento y estuvo entre sus jugadores apoyándolos en los momentos mas críticos del torneo. Entre sus palabras agradeció a los presentes :"Por hacernos sentirnos como en casa. Este fue un gran evento y todos lo disfrutamos mucho, felicitaciones al equipo de EEUU por un buen torneo también!"
Aquí les dejamos a los siete países finalistas con sus respectivos capitanes:
1 México Team PokerStars Pro Cristian De León.
2 Venezuela Jesús Bertoli.
3 Canadá Team PokerStars Pro Greg De Bora.
4 Colombia Freddy Torres.
5 Argentina Team PokerStars Pro Leo Fernández.
6 Brasil Team PokerStars Pro Alex Gomes.
7 Resto de América Latina Karlo Lopez
Equipo DIMEPoker