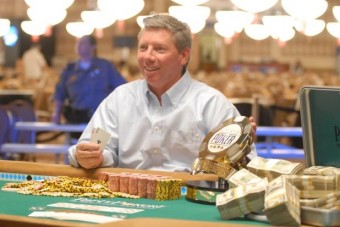 El evento benéfico "The Big One for One Drop" de buy-in 1.000.000$ sigue sumando adeptos y ahora fue el turno del Hall of Fame, Mike Sexton en confirmer su presencia.
Sexton, además de conducir el WPT, tiene más de 4 millones de dólares en ganancias y se ha mostrado muy entusiasmado por participar de este evento "Guy Laliberté, el fundador de los espectáculos del Circo del Sol, tuvo una visión para que este evento fuese posible y sabía que iba a generar una enorme publicidad para su fundación, One Drop".
"Todos los rumores de las WSOP giran en torno al torneo. Todo el mundo está hablando de este evento, desde los pequeños jugadores que juegan los satélites a todos los jugadores de renombre. En cuanto a mí, estoy muy contento de estar en la parrilla de salida para poder disputar el evento de poker más esperado en la historia".
Recordemos que este torneo será el más caro de la historia del poker y 111.111$ de cada entrada irá directamente a la ONG "One Drop". Además se busca una cierta exclusividad por lo que solamente 48 jugadores podrán optar a los 18,2 millones de dólares que irían al primer lugar.
Grandes nombres ya están confirmados y al parecer este torneo se robará todas las miradas de la World Series of Poker 2012.
A continuación te dejamos con la tabla de pagos según la cantidad de jugadores isncritos.
Equipo Dimepoker.