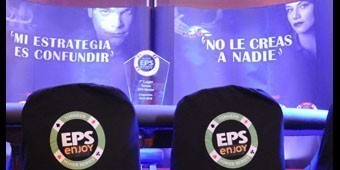 El circuito Enjoy sigue su curso y este viernes se dará inicio a la primera jornada del Master Enjoy desde la hermosa ciudad de Antofagasta.
Varios de los jugadores más importantes del país estarán presentes, entre ellos tres bloguistas de nuestro sitio, Felipe Morbiducci, Alvaro Valenzuela y el número uno del ranking Enjoy, Juan José Mantilaro.
01:40 Mañana volvemos con nuestra transmisión en vivo.
01:36 Recuento de fichas de algunos jugadores.
Tomás Carvallo 190k
Juan Jochava 120k
The Kid 119k
Juan Antonio Cereceda 84k
Leonel Otazo 78k
Felipe Morbiducci 71k
Luis Silva 68k
Camzu 60k
Raúl Arias 55k
unipoker1 55k
Juan José Mantilaro 45k
Aurel Bogdan 36k
René Beher 21k
Juan Parra 20k
Cristian Velasquez 12K
01:35 Finaliza la primera jornada del Master de Antofagasta. Restan 63 jugadores, entre ellos, nuestros bloguistas Juan José Mantilaro y Felipe Morbiducci.
00:57 Suben las ciegas 800/1600 con antes de 200. Restan 74 jugadores y el promedio está en 44k.
00:55 Carvallo la vuelve hacer. Esta vez ligó flush en el turn y eliminó a un nuevo jugador (enseña AA). Quedando con 170k.
00:46 Tomás Carvallo se triplica, obtiene un pozo de 100k con escala del T al As.
00:40 Unipoker1 a la pasada me comenta que acaba de perder un pozo y se encuentra con 60k.
00:32 Valenzuela se va eliminado. 4 limpers en la mesa, Valenzuela shovea T5 en BB y le paga UTG con AJ. Nada sale en el board y nuestro bloguista se despide del Master de Antofagasta.
00:29 Suben las ciegas 600/1200 con antes de 150. Quedan 84 jugadores y el promedio está en 39k.
00:13 Valenzuela queda muy short luego de perder un gran pozo contra dos pares de K 9. Alrededor de 10k
00:01 Tomás Carvallo pierde la mitad de su stack en una escala de 9 al K, mientras su villano enseña escala al A. Luego de esta mano hay un poco de tensión en la mesa, ya que el director de torneos se demoró más del tiempo necesario en contar el stack del villano, lo que molestó a Carvallo.
23:57 Suben los blinds 400/800 antes de 100.
23:44 Tomás Carvallo obtiene un buen pozo. Preflop Tomás aumenta a 1800 en Mp, SB call. Flop 4c 3c 4s, SB apuesta 2k, Tomás paga. Turn 9h, SB apuesta 3600, Carvallo call. River Jd, SB apuesta 5k y Tomás paga con 9 y 7, mientras que su oponenete enseña 9 y 6.
23:31 Se reanuda el juego. Ciegas 300/600 antes de 50. el promedio está en 36k.
23:30 Recuento de fichas:
Juan Antonio Cereceda 90k
Tomás Carvallo 78k
The Kid 75k
Luis Silva 75k
Aurel Bagdan 70k
Gonzalo Meza 60k
Raúl Arias 60k
unipoker1 55k
Juan José Mantilaro 45k
Camzu 42k
Felipe Morbiducci 38k
Leonel Otazo 30k
Juan Parra 30k
Alvaro Valenzuela 24k
Arturo Longton 20k
23:29 Se inscribieron un total de 99 jugadores y se hicieron 64 recompras. Restan 90 participantes.
23:09 Se cierra el periodo de rebuys y entramos en break de 15 minutos.
22:40 Suben los blinds 200/400.
22:36 Eduardo Hercovich pierde en una espectacular mano y se ve obligado a recomprar. Flop Q J 7, Hercovich shovea con JJ, su villano hace call con KA. Turn 6 y river T, obteniendo en último minuto la escala.
22:30 The Kid gana un buen pozo con set de 2.
22:21 Simón The Kid sube 1k en Mp, SB call. Flop Ah Qs 5d, SB apuesta 1k y Simón call. Turn 4d, SB apuesta 1k y The Kid raisea a 2300, SB call. River 2d, SB apuesta 1300 y Simón foldea.
22:06 Suben las ciegas 150/300.
22:05 El Second Chance se llevará a cabo mañana a las 16:00 hrs., pero existe un mínimo de 20 integrantes por lo que aun no se confirma el evento.
22:00 Nuestro bloguista Alvaro Valenzuela perdió una gran mano. Flop T 8 3. Valenzuela shovea con 33 y su villano enseña KK. Turn T, river T y Alvaro queda con 6K, obligándolo a realizar su rebuy.
21:43 99 jugadores llegaron a participar de este gran evento.
22:40 Suben los blinds 100/200. Además en este momento se cierran las inscripciones y se cierra la mesa nº 11.
21:38 Aurel obtiene un gran pozo. En el river logra un full de 6 al 2, mientras nuestro bloguista Felipe Morbiducci, tiene el full bajo.
21:30 Valenzuela se dobla. nuestro bloguista manda all in preflop con QQ chocando contra un KQ. Para alegría de nuestra comunidad, Alvaro pincha el set en el flop, logrando el full de Q y J al final.
21:25 El torneo durará hasta el octavo break, la siguiente etapa se llevará a cabo desde las 13:45 horas del día sábado.
21:24 En este momento las ciegas se encuentran en 50 /100.
21:15 En esta jornada tendremos duelos muy entretenidos como los de Arturo Longton y Juan José Mantilaro quienes integran la misma mesa. También podemos ver a Felipe Morbiducci y Aurel Bogdan que comparten la mesa 4. Además, reviviremos el duelo del Pro Viña del Mar, con unipoker1 y Luis Silva.
21:05 Se da inicio al Master Enjoy de Antofagasta.
21:00 En este momento se da la bienvenida oficial y se explican las reglas.
20:56 Se le solicita a los jugadores tomar sus respectivas posiciones para dar inicio al torneo.
20:45 Por el momento hay 92 jugadores inscritos, la novedad es que la mesa nº 11 se llevará a cabo en el sector No fumadores del Casino Enjoy de Antofagasta.
20:17 Según el Director de torneos, se espera un registro de 100 participantes.
20:15 El torneo comenzará a las 21:00 hrs.